Delight yourself in a feast of all ability music with the AUMI Workshop Volunteer Ensemble, under the direction of internationally known visiting composer/percussionist/artist/educator, Jesse Stewart, this weekend, August 11/12!  Stewart is dedicated to the art of inclusive community music making and these performances are the culmination of his week-long, all ability workshop here in Lawrence this week.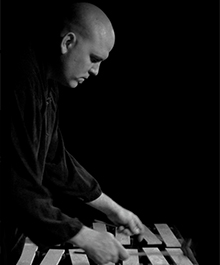 Performances: 
Friday, August 11, 2017, 5:30 PM
Spooner Hall / University of Kansas
Saturday, August 12, 2017, 3:30 PM
Lawrence Public Library
Read more about Jesse Stewart here and learn more about the workshop and performances here
Stewart's artist residency is part of an international symposium and made possible by grants from the National Endowment for the Arts and The Commons at KU, as well as support from community partners Independence, Inc. and the Lawrence Public Library Sound + Vision Studio, the School of Music and Departments of American Studies, Dance, and Theater.
---

Lawrence City Commission honors the 27th Anniversary of the ADA with reading and signing of proclamation
The Lawrence City Commission, to a packed City Hall, read and signed a proclamation regarding the 27th Anniversary of the American's with Disabilities Act, thanking the community for their support and progress and pledging ongoing support for continued and much needed improvements and compliance. Members of the Independence, Inc. Task Force and others were in attendance and Task Force member, Drew White, received a copy of the proclamation on behalf of Independence, Inc.
Independence, Inc. Co-Director, Bob Mikesic, used his time at the mic to thank the commission as well to bring awareness to changes that still need to be made including raising awareness of the Better Care Reconciliation Act and how that may impact community members who are disabled, elderly or low-income.
Also honored at the meeting with a signed letter of congratulations and support, was Deb Young,  Ms. Wheelchair Kansas 2017.


---
GOP Fumbling on Health Care
The following is information from the National Council on Independence Living (NCIL) regarding the Better Care Reconciliation Act (BCRA)
"Two more Republican Senators announced on Monday that they oppose the Better Care Reconciliation Act (BCRA). Senator Mike Lee from Utah and Senator Jerry Moran from Kansas both issued statements expressing their opposition. Because Republicans can only afford two no votes, and Senator Collins (ME) and Senator Paul (KY) already confirmed their opposition, the Senate does not have the support needed to pass the BCRA and will not move forward with the vote." To read the full article, click here
---
NCIL statement on the AHCA
The following is the official NCIL Statement on House Passage of the American Health Care Act:
"The National Council on Independent Living is deeply disappointed by the House's 217-213 passage of the American Health Care Act (AHCA) yesterday. This bill represents a huge step backwards for people with disabilities who – if this bill is passed into law – will face higher health care costs, less coverage, and a greater risk of institutionalization. Specifically, the AHCA would do this by:
Slashing Medicaid funding by over $800 billion
Eliminating protections for people with pre-existing conditions
Ending the enhanced Federal funding for the Community First Choice Option
Eliminating the ten Essential Health Benefits
Making fundamental changes to the ACA's premium subsidies and other assistance
Ending Medicaid Expansion
The bill now heads to the Senate, where it only needs 51 votes to pass. We need the Senate to reject this disastrous bill, so we have to keep fighting to ensure they do just that.
Take Action!  
First: Make sure Congress knows we're going to hold them accountable. See how your Representative voted. If your Representative voted against the AHCA, thank them! If your Representative voted for it, let them know how disappointed you are and just how harmful their vote was.
Then: Start talking to your Senators! We need to make sure every single Senator understands the dangerous implications of the AHCA. Reach out to them today to let them know your concerns. Then call their offices to schedule a meeting with them over the Memorial Day Recess at the end of the month.
Today is a sad day, but there is still hope. Please join us in working to ensure that the ACHA does not become law!"
---
Participants Needed for a Research Study!
Letter writing skills for disability advocacy
Are you a person with a disability?
Are you interested in self-advocacy including writing advocacy letters, but do not yet have much experience?
Are you able to read and write in English?
Are you able to type using a computer?
If you answered "YES" to all of these questions, you may be eligible to participate in our study.
Alice Zhang, graduate student at the Research and Training Center on Independent Living at the University of Kansas, is teaming up with Independence, Inc. to spread the word and help recruit participants for a new study aimed at advocacy training and letter writing skills.  The following is a description of the study:
"We are conducting a training program to assess and develop an advocacy training package to help people with disabilities learn and apply advocacy skills. If you are interested, we would like to talk to you and discuss whether this study is a good fit for you and us. You will complete a short interview (15 minutes) with closed and open-ended questions if you are selected for the study. You will then engage in a personalized advocacy letter writing training program that will last several sessions and each session may last 1-2 hours. The training will be held at Independence Inc. at 2001 Haskell Ave, Lawrence, KS. We are offering $60 per session as compensation for your time and expenses.
We hope that you will consider participating in this study so that we can learn more about disability rights advocacy letter writing skills. If you are interested or need further information, please contact Alice Zhang by email at alicezhang@ku.edu or by phone at 785-864–4095 as soon as possible.
This research is conducted under the direction of Dr. Glen White, Director of the Research and Training Center on Independent Living, The University of Kansas, and has been approved by the Human Subject Committee –Lawrence Campus."
---
Volunteers needed to test accessibility of a new campus map
In an effort to partner with and support the work and mission of the ADA Resource Center for Equity & Accessibility, Independence Inc. is looking for individuals with low vision to help test the accessibility of a campus map. The resource center is working to develop an updated map of campus that identifies some accessibility features – such as accessible entrances, elevators and bathrooms. Would you be willing to help view the map and offer feedback? If so, please contact Bob via email bmikesic@independenceinc.org or phone 785-841-0333 ext. 107 for further details.
---
Protecting Medicaid and home/community-based programs
As Congress considers the American Health Care Act (AHCA) as a replacement for the Affordable Care Act (ACA), it's important to contact Congress to remind them how Medicaid, including Home and Community Based Services, enables people with disabilities to live in the community, maintain health, be active members of the community.
Share this information with the public about how the AHCA will affect people with disabilities and get information out to people to contact their House and Senate members.
Rep. Roger Marshall (1st District) email via website only – www.marshall.house.gov  DC phone – 202.225.2715 Salina office phone – 785.829.9000
Rep. Lynn Jenkins (2nd District) email via website only- www.lynnjenkins.house.gov  DC phone- 202.225.7986 Topeka office phone- 785.234.5966
Rep. Kevin Yoder (3rd District) email via website only- www.yoder.house.gov  DC phone- 202.225.2865 Overland Park phone- 913.621.0832
(4th District is vacant until special election April 11th)
Senator Jerry Moran email via website only- www.moran.senate.gov DC phone- 202.224.6521 Olathe office phone- 913.393.0711
Senator Pat Roberts email via website only- www.roberts.senate.gov DC phone-202.224.4774 Topeka office phone- 785.295.2745
Below are articles/websites that provide more complete information about the possible impact of the American Health Care Act (AHCA) on people with disabilities:
Action Alert! The Harmful Health Care Bill is Coming Back – Call Congress Now
Top 10 Changes to Medicaid Under House Republicans' ACA Repeal Bill http://www.healthlaw.org/component/jsfsubmit/showAttachment?tmpl=raw&id=00P0W00000jXtvTUAS
Learn More from the Center for Public Representation  about the American Health Care Act's proposed cuts to Medicaid.
How would the Republic health care plan affect you?
National Council on Independent Living: Proposed Housing Cuts
Congressional members contact information.
https://www.contactingcongress.org/
_______________________________________________________________________
Almost that time of year…Taxes!
Doing your taxes is often daunting for most people. For many people with disabilities, it can be overwhelming. Click here for a link to help with Tax Credits and Deductions for People with Disabilities.
If you're looking for in-person assistance, the Senior Resource Center of Douglas County will be offering help to people starting on February 1. Due to the renovation of the current building, the tax assistance will be located at the Central United Methodist Church at 1501 Massachusetts St. Check out the Senior Resource Center's webpage for more info by clicking this link.
15th Annual Disability Mentoring Day
Disability Mentoring Day (DMD) is a nation-wide event that promotes career development and mentoring for youth with disabilities through hands-on career exploration, job shadowing and mentoring.  It illustrates the importance of encouraging young people with disabilities to develop skills necessary for future employment.
This year we had 48 youth participate from Baldwin City High School, Lawrence Free State High School, Lawrence High School, and Wellsville High School.
Thank you to our 2016 Business Mentors!
| | |
| --- | --- |
| Animal Hospital of Lawrence | KU Engineering |
| Bryant Collision Repair | KU Natural History Museum |
| Community Living Opportunities | KU Public Safety Office |
| Double Tree Hilton Catering | Laird Noller Automotive |
| Eagle Trailer & Company | Pennington & Company |
| First Presbyterian Church Pre-School | Pet World |
| Jane Bateman Interior Designs | Salon 708 |
| JCCC Game Design Program | Slimmer's Automotive |
| KLWN Radio | Therapy Works |
| KU Athletics Corp | Tony Peterson Photography |
| KU Department of Dance | Van Gogh Mobile Arts |
| KU Dining | Wakarusa Township Fire Dept. |
After their mornings with their mentors, youth and mentors enjoyed a Celebration and Keynote Program! Thanks to our Event Sponsors!