Peer Group Activities Page!
Keep up to date with all of the latest peer group happenings here at Independence, Inc.!  See upcoming events below
►

Welcome to Peer Groups 2020!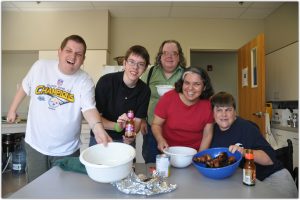 ---
Due to COVID-19, all group communication and interaction is currently taking place online and/or by phone. Virtual Peer Groups can be joined via the Amazon Chime platform or by a call-in format Monday's at 3:00. To join our virtual Peer Group dialogue, getting to know you time and planning sessions, please see our current online group flyer for information and instructions:  
2020 Virtual Peer Group Meetings
There is no Peer Group meeting Monday, September 7 due to the Labor Day Holiday. Please join us the following week, September 14, for a music therapy session facilitated by Emily Bachert, a board-certified music therapist! 
---
Independence, Inc. hosts or coordinates several support groups for people with disabilities for educational, entertainment and/or social enjoyment and with a new Peer Group Coordinator, we are currently in the planning phase for a whole new season of Peer Group Activities! Peer group activities are identified, planned, formed and lead largely by consumers with assistance and direction from our peer group coordinator. Keep up-to-date with what's happening and share your thoughts on what types of groups or group activities you might be interested in!
---
 ►For questions or more information, contact Rachel Vogelmeier
rvogelmeier@independenceinc.org | 785-841-0333 ext. 115