Have you heard about our new Adaptive Fitness program? We are so excited to have James Findley as the trainer for our program! He is the lead trainer and owner of findfitness in Lawrence, Kansas. He has a Bachelor's of Science in education and carries a training certification through the Athletic Republic. He teaches Adaptive Fitness class at Independence, Inc. on Monday afternoons and Thursday mornings.
We asked James:
II: What is adaptive fitness?
JF: Adaptive fitness is exercise that has been modified to help people with disabilities achieve physical well-being.
II: What are the benefits of adaptive fitness?
JF: The benefits of adaptive fitness exercise programs are many. They include improved cardiovascular function, increases in strength and flexibility, improved cognitive function, and improvements in daily functionality.
II: What are the physical requirements? What level of fitness is necessary to participate in adaptive fitness?
JF: The physical requirements are a healthy heart, a willingness to work, and a positive attitude. Exercises can be modfied for people of all fitness levels.
II: What should some expect from a typical adaptive fitness session?
JF: Classes usually include cardiovascular endurance, strength training with free weights and physioballs, resistance training with exercise bands, abdominal strengthening, and stretching.
II: What are your top five tips for healthy living?
JF:
Eat less, more frequently. Instead of eating two or three big meals (600-1000 calories) a day, eat six or seven small meals (200-300 calories) to control weight gain.

Walk a mile a day. Studies show that prolonged low intensity cardiovascular exercise is best to help you burn fat from your body.

Add a vegetarian day to your diet. As the summer months are approaching, there will be an abundance of fresh wonderful produce to choose from. Try making your favorite meal but in place of the protein substitute a vegetable like broccoli, asparagus or brussel sprouts. Go ahead and try them again, I promise they are not as bad ad they were when we were kids.

Drink more water. Daily you should have one ounce of water per every kilogram o body weight. Take your weight in pounds and divide that by 2.2 and that is how many ounces of water you should drink each day.

Make positive food choices. If you eat cheap, processed, chemically laced food you too will become cheap, processed and chemically laced. Many of these factors lead to health issues such as weigh gain, diabetes, and cancer. When possible, choose organic or natural produce, dairy, and protein. Try to buy your produce fresh and give it a

good washing beforehand.
​Just take it one day at a time, and one step at a time. Do your best to make as many of these small changes as you can. Small changes equal big results!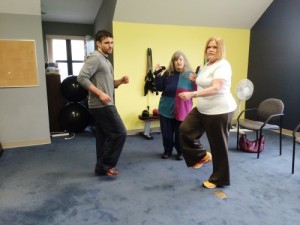 For more information on our program, please contact Ranita.